June 6 marks the beginning of the end of a television era for Miami. USA's Burn Notice will premiere its final season of a seven-year long run. The final season will continue to follow burned agent Michael Westen (Jeffrey Donovan) and his friends and partners in vigilantism, Sam (Bruce Campbell) and Fiona (Gabrielle Anwar), as they work to protect sunny Miami.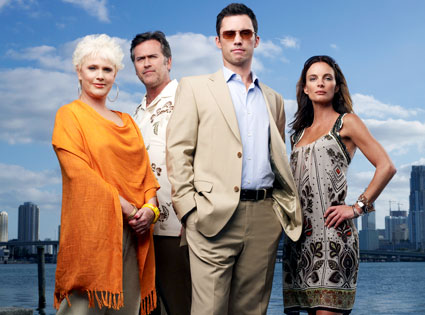 Though Burn Notice never reached the level of cultural phenomenon that Miami Vice was able to reach, the show has had a large impact on the city of Miami. Graham Winick, director of Miami Beach's film office, told the Miami Herald, "As much as Miami Vice was the signature show for this community, Burn Notice had an equal effect. It has carried us for the last decade and re-launched us as a television city. After Vice, no television series had succeeded here."
The "blue-sky" show rivaled not only Miami Vice in popularity for a Miami based television show, but also viewership for other critically acclaimed shows. A recent Nielsen ratings report showed 3.8 million Burn Notice viewers, far outweighing Mad Men's 2.5 million viewers.
The series creator, Matt Nix, is set to lead another series for Fox Television, Burn Notice's producer and USA. On May 16, USA released a press release stating that Matt Nix will be writer and executive producer of a new show called Complications, which will feature an ER doctor who is involved in a gang shooting that changes his life and practice when he is forced to reexamine a doctor's role in treating the cause of medical problems.
In regards to the end of a successful run, Hollywood Reporter quoted USA co-president Chris McCumber saying that, "Burn Notice has had an incredible run over the last six years, and we could not be more proud of the extraordinary talent both in front of and behind the cameras who have collectively made this show into one of the most popular and lauded shows on TV today."